A table placed in nature on a frozen lake with mountains in the background
Edible country table in Swedish Lapland. Photo Jonas Eltes & Victor Falk
Swedish Lapland
Arjeplog
Show on google maps
Swedish Lapland constitutes of more than 25% of Sweden. Situated in the absolute north of the country, it treats you to mountains, forests, marshes, large rivers, archipelagoes and sea and is one of only seven places in the world where you can experience the Arctic. Reserve spots at this table and enjoy the beautiful surroundings together with friends and family. The table is located at Skeppsholmen in the town Arjeplog only a few minutes' walk from the town centre and over a small bridge close to Hornavan Hotel.
The table is bookable every Sunday between June to September.
How it works
1. Book your seats at the table for free. Please note that the booking is for a seat at the table and DIY recipes – no meals are included in the booking. The table is bookable every Sunday between June to September.
2. Read your booking confirmation. It contains all the information you need, including local contact details for any questions you may have. Foraging and cooking in nature is a fun and rewarding experience, but can also be a bit of a challenge. Why not book an add-on like a cooking kit or a local foraging guide? It makes it more relaxed and gives you the chance to learn more about the region and its cuisine. Your local contact can inform you on how to book add-ons, give tips on accommodation and much more.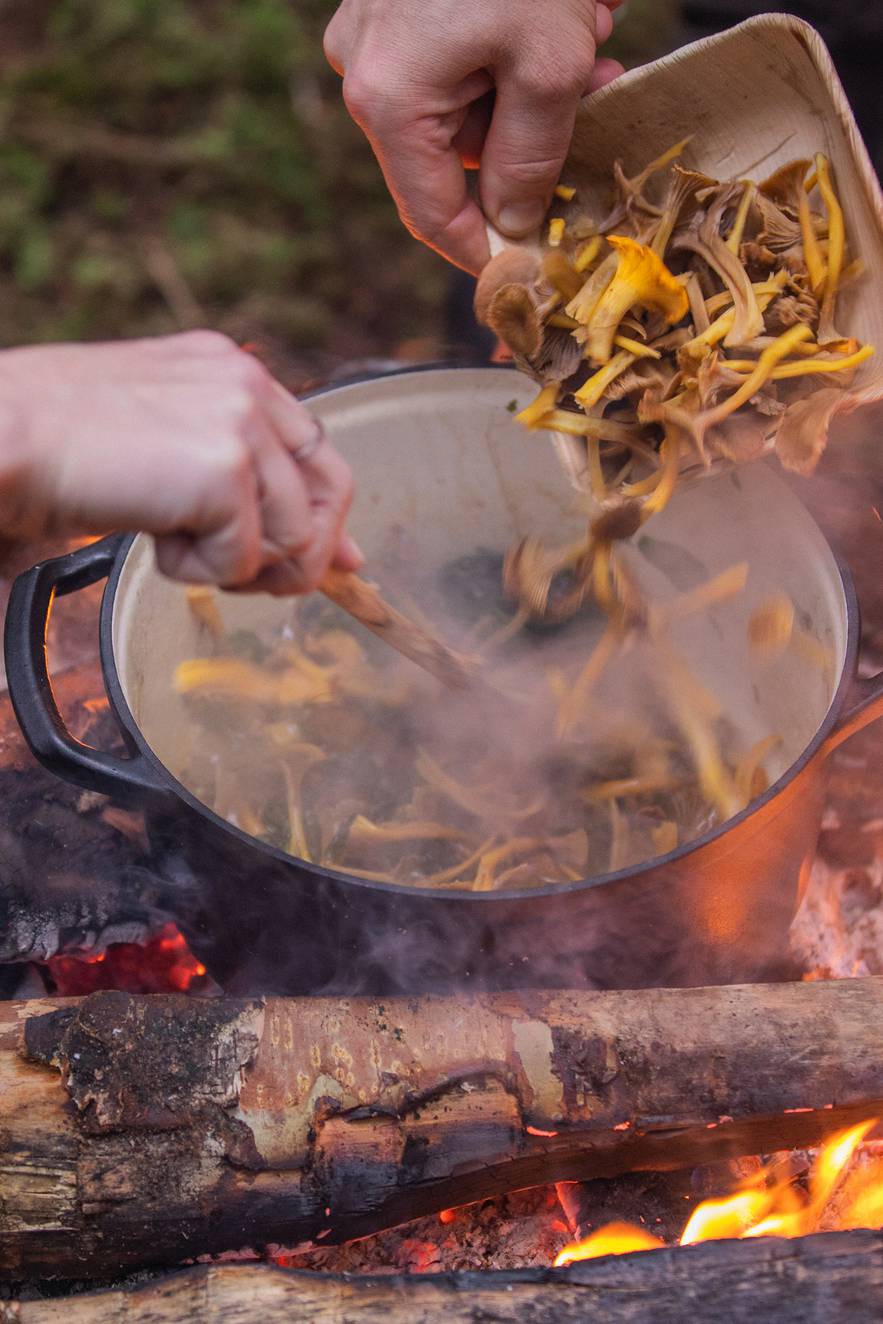 Cooking mushrooms over open fire. Photo August Dellert
A table placed in nature on a frozen lake with mountains in the background
Swedish Lapland
Besides the fine do-it-yourself dining at The Edible Country, there is much to see and do in the Swedish Lapland. With four national rivers, more than 30,000 lakes and a coastline of over 1,500 kilometres – Swedish Lapland has room for a few more fishermen. Of course, there is no forgetting the Midnight Sun or Northern Lights experiences here. You can see the Midnight Sun from May to July, and remember, the more north you go, the shorter the nights. When summer ceases and the darkness returns, the Northern Lights can be seen dancing in the skies. Many say that the autumn is the very best season for spotting the auroras. If hiking is your kind of hobby, then this is the place to do it. Hike over Sweden's highest mountaintops, to the cloudberry marshes or to one of many fishing places. King's Trail, or Kungsleden, is Sweden's longest and most famous trail and mostly frequented during summer. Find out more information about Arjeplog in Swedish Lapland.