Skip to main content
We use cookies to ensure that we give you the best experience and to provide additional functionality on our website. If you would like to, you can change your cookie settings at any time. See our cookie policy.
Summer holiday
In Sweden summer is short but sweet. Many Swedish families spend at least part of their summer holiday in a summer house or cottage in the countryside. Relaxing with their family and friends making the most of the lengthy summer holiday.
Photo credit: Lina Roos/imagebank.sweden.se
Anything Goes
Our dream home can now just as easily be a minimalist architectural work of art as a dilapidated croft from the 1600s with the axe marks still visible on its log walls.
Last updated
01 June 2021
Size and comfort levels don't automatically equal status. A private island with a sandy beach and good communication routes are the most desirable features, but the house buyer often ends up in something that reflects their childhood memories – at least as closely as they can afford – and then the standard of the property is less important.

For example, the issue of the outdoor vs indoor toilet is fundamental for all Swedes who waste time at work browsing through Sweden's biggest property site, but in reality most people are just as happy with the simplest possible standard of accommodation. The lack of running water is counterbalanced by a solid old wood-fired stove.

In other words, we are in search of a kind of authenticity, and that's why it isn't impossible that you might find the CEO of the Singapore stock exchange crouching over a simple earth closet with a flaking heart painted upon the door.

In terms of its origins the Swedish summer cottage is therefore something of a divided tale. If we ignore the hyper-modern creations, we have roughly hewn crofts with stone foundations, simple cabins with thin partition walls and linoleum flooring, and restored former farm cottages.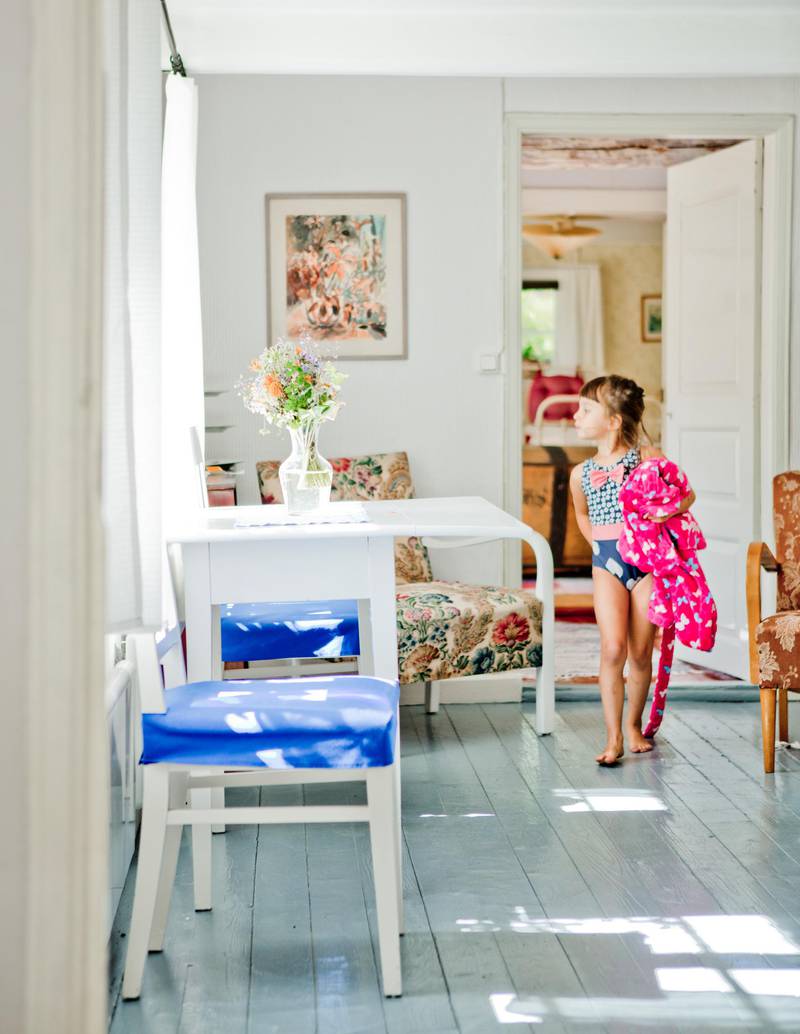 After decades of renovations, the overall image is still strikingly uniform, far beyond the classical red façade. Often, the kitchen cupboards are from the 1950s. If there is wood-fired oven it is supplemented with a simple electric cooker from, say, the 1990s. An old-fashioned kitchen sofa has pride of place in houses from all periods. The attic under the gable roof has been turned into a sleeping loft and the beds in all of the guests rooms are simple wooden frames – or, something considered to be particularly classy – were built in place. Those who can be bothered rip out the linoleum flooring and sand the oak planks beneath, but in all honesty the lino isn't such a bad idea.
We have large regional variations – from Norrland's natural grey huts on mountain pastures to Mälardalen's two-storey houses on small hills or Skåne's sturdy half-timbered buildings.

The big mystery is why, when given the chance, children all across the country without exception draw a Swedish summer home as red and opulent, with mullioned windows and a flagpole nearby, surrounded by green grass.
Hälsingegård
Decorated Farmhouses of Hälsingland, Hälsingegårdar, was inscribed on UNESCO´s World Heritage List in 2012.
Photo: Håkan Vargas S/imagebank.sweden.se
Hälsingegård
Photo: Håkan Vargas S/imagebank.sweden.se
Traditional houses at Kulturen in Lund, Skåne
Photo: Carolina Romare
Group biking on a cobblestone street in Mollösund, Bohuslän
Photo: Roger Borgelid/Westsweden.com