Skip to main content
We use cookies to ensure that we give you the best experience and to provide additional functionality on our website. If you would like to, you can change your cookie settings at any time. See our cookie policy.
Trakt Forest Hotel, Småland
Enjoy the view and the tranquillity of nature while staying in one of the five suites at Trakt Forest Hotel.
Photo credit: Trakt Forest Hotel
New and trendy hotels
Arriving at your destination and checking into a nice hotel is one of the best feelings – especially if you're one of the first guests to stay. Here are the most notable hotel openings in Sweden during 2022 and 2021. Some of them have already made it to the lists of the world's top hotels. Others will for sure be the talk of the town as soon as they open their doors.
Last updated
07 November 2022
Scandic Kiruna, Kiruna
Opened in: April 2022
The city of Kiruna is being physically moved a few kilometres to land undamaged by mining. A new downtown district is currently being built with a mix of historic buildings from the old city centre and new ones, like Scandic Kiruna. The new hotel, replacing Scandic Ferrum in the old city centre, houses Sweden's northernmost sky bar overlooking the mountainous Swedish Lapland. The exterior of the hotel, with its U-valley-shaped façade, is inspired by two of northern Sweden's most well-known nature attractions: Kebnekaise and Lapporten. Scandic Kiruna is built with sustainability in focus. The building has a very low water consumption and is entirely run by renewable electricity.
Åhus Seaside, Åhus
Opened in: June 2022
A modern spa hotel just a few steps from Täppet Beach – that's Åhus Seaside. The area has been a popular summer destination since the 1960s and this hotel, with its strong sustainability focus, will most likely reinforce and extend the trend. Guests can expect a welcoming and relaxing atmosphere. Åhus Seaside offers 72 rooms – all with sea views and modern Scandinavian furniture – and a spa inspired by the surrounding nature.
Trakt Forest Hotel, Holsbybrunn
Opened in: July 2022
At Trakt, it's all about the landscape, the views, and the silence. Located some 20 kilometres outside Vetlanda, in the deep forests of Småland, Trakt Forest Hotel invites you to not only be a guest in nature, but a part of it. The five suites are designed by acclaimed architect Gert Wingårdh who calls them 'floating rooms'. Built with minimal impact on the surroundings and furnished with Scandinavian simplicity in mind, you'll be staying among the trees and falling asleep under the stars.
Backstage Hotel, Stockholm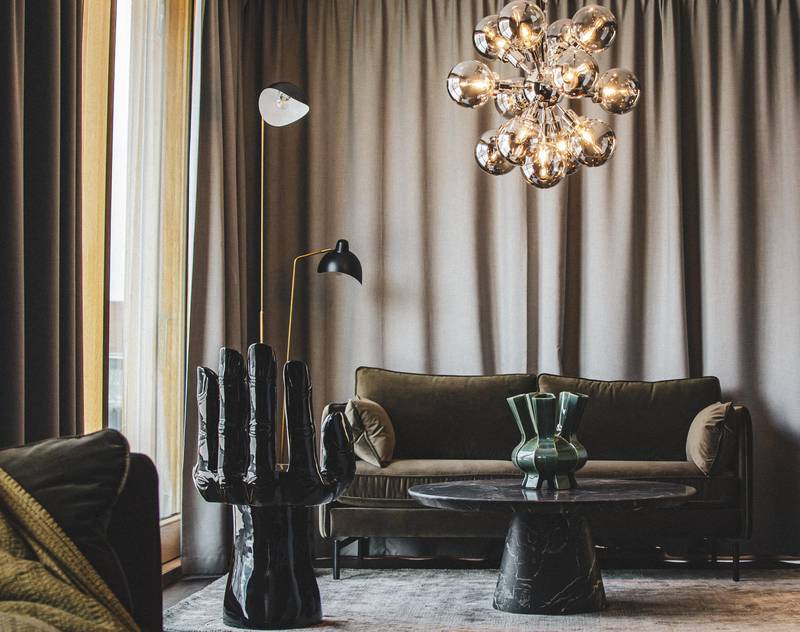 Opened in: September 2022
Stay behind the scenes – and next to ABBA The Museum – on the island of Djurgården in central Stockholm. Guests at Backstage Hotel are treated as true stars and offered to fill in a "rider" before arrival to request room music, pillows and even VIP tickets to various shows. Sprinkled with signature design pieces, carefully selected contemporary art and furniture by Eichholtz, the 57 rooms, lofts and suites at Backstage Hotel offer a comfortable stay in understated luxury.
Jacy'z Hotel & Resort, Gothenburg
Opened in: November 2022
Several months before opening, the expectations on Jacy'z Hotel & Resort were as high as the 100-metre skyscraper it's situated in. The hotel said to be the largest investment yet for the Ess Group that's already given Sweden several must-visit hotels in recent years, including Ellery Beach House, Steam Hotel and Hotel Pigalle. Jacy'z opened in central Gothenburg this November and includes three restaurants and a Miami-inspired pool club, situated on the 28th floor. If you're looking for something extra, book a stay at JQ, the most exclusive part of Jacy'z. Here, the rooms are inspired by the glamourous 1960s in Las Vegas with daring materials and eye-catching art – and you'll be checking in at a speakeasy bar on the 17th floor.
Ad Astra by Elite, Södertälje
Opening: November 2022
From November you'll reach the Mediterranean from Stockholm in only 28 minutes. Ad Astra reaches for the stars with this new destination hotel in Södertälje, complete with an outside swimming pool, a garden, several restaurants, a movie theatre and a piazza with a petanque pitch – all inspired by the Riviera. The hotel will have 161 rooms and suites, and the Italian-influenced Vana Spa will be the largest yet within the Elite Hotels group.
Clarion Hotel Sea U, Helsingborg
Opened in: February 2021
Clarion Hotel Sea U is not only the largest hotel in Helsingborg, it also plays a significant part in an emerging new city district. The hotel embraces a weekend-all-week vibe with several restaurants, bars – one of them being a rooftop bar – and an outdoor pool. The 250 hotel rooms feature exclusive Scandinavian interior design and the seaside location allows for endless views across the sea towards Elsinore (Helsingör) in Denmark.
Villa Dagmar, Stockholm
Opened in: May 2021
Villa Dagmar was listed one of the best new boutique hotels in the world by National Geographic in 2021. Located next door to the historic Östermalms Saluhall, Villa Dagmar offers a luxurious stay where all furniture is hand-picked in Scandinavian and Italian style. The interior is described as eclectic and contemporary, yet elegant. The hotel restaurant collaborates with the owners and chefs at the Michelin-starred restaurant Aloë, and The Garden Bar has already become a favourite among locals in this high-end part of Stockholm.
Hotel Ruth, Stockholm
Opened in: July 2021
In July last year, the family behind Hotel Frantz welcomed a little sister in the new Hotel Ruth. Ruth is situated in a 19th century building and is the first boutique hotel in Stockholm's Vasastan. The 62 rooms are all unique with an unpretentious luxury, reminiscent of a classic Stockholm apartment. And, just like her big brother, Ruth has taken on the much-appreciated concept with strawberry and cream-cake and non-alcoholic sparkling wine for breakfast.
The Wood Hotel by Elite, Skellefteå
Opened in: October 2021
Forget about skyscrapers, the future is all about "plyscrapers". At least according to The Guardian, who listed the 20-storey building of The Wood Hotel in Skellefteå in Swedish Lapland as the best architecture of the year in 2021. The interior of the rooms is inspired by mountain cabins with a minimalistic style and large windows. However – for the best views – head to the hotel restaurant Miss Voon or Vana Spa, residing on the two top floors. Sustainability is a key factor at The Wood Hotel: heating, cooling and ventilation are completely climate neutral, and the wooden building absorbs more CO2 than it uses.
SkiStar Lodge Hundfjället, Sälen
Opened in: December 2021
Sälen ski resort in Dalarna county is a favourite among Swedish families, and with the new SkiStar Lodge Hundfjället, Sälen aims to become a mountain resort of international repute. The hotel opened in December and offers ski-in-ski-out and direct access to Scandinavia's most modern 8-seater express lift. The lodge is family-friendly with a public playroom and snow-themed apartments reminiscent of the world of Sälen's snowman mascot Valle. Foodies will be satisfied too, as acclaimed chef Pontus Frithiof has opened a filial within the hotel.
Jörn Experience Hotel, Jörn
Opened in: December 2021
60 rooms and 25 experiences – that's Jörn Experience Hotel in Västerbotten. A typical stay at this hotel is a combination of wilderness and comfort: Explore Swedish nature during the day and sleep in a simple yet stylish accommodation at night. Experiences to choose from include dog sledding, wilderness spa and moose safari.
Lapland View Lodge, Övertorneå
Opened in: December 2021
Located on the Luppio Mountain, on the border to Finland, this hotel offers a 360° view over countless treetops and the Torne River. The 40 chalets have room for two and large windows for you to be able to take in the landscape to the fullest. Lapland View Lodge is run by Explore The North, an adventure company that aims to give visitors the most magnificent experiences, while leaving as little footprint as possible. They offer a range of season-bound activities, such as a midnight sun hike in the summer and a dog sledding tour in the winter.
Please note: There are many other places to stay in Sweden. Contact the regional tourist boards for more tips.