Skip to main content
Ribersborg and Västra Hamnen, Malmö
Malmö is a city of contrasts, mixing a historic city centre with ultra-modern neighbourhoods like Västra Hamnen, the Western Harbour.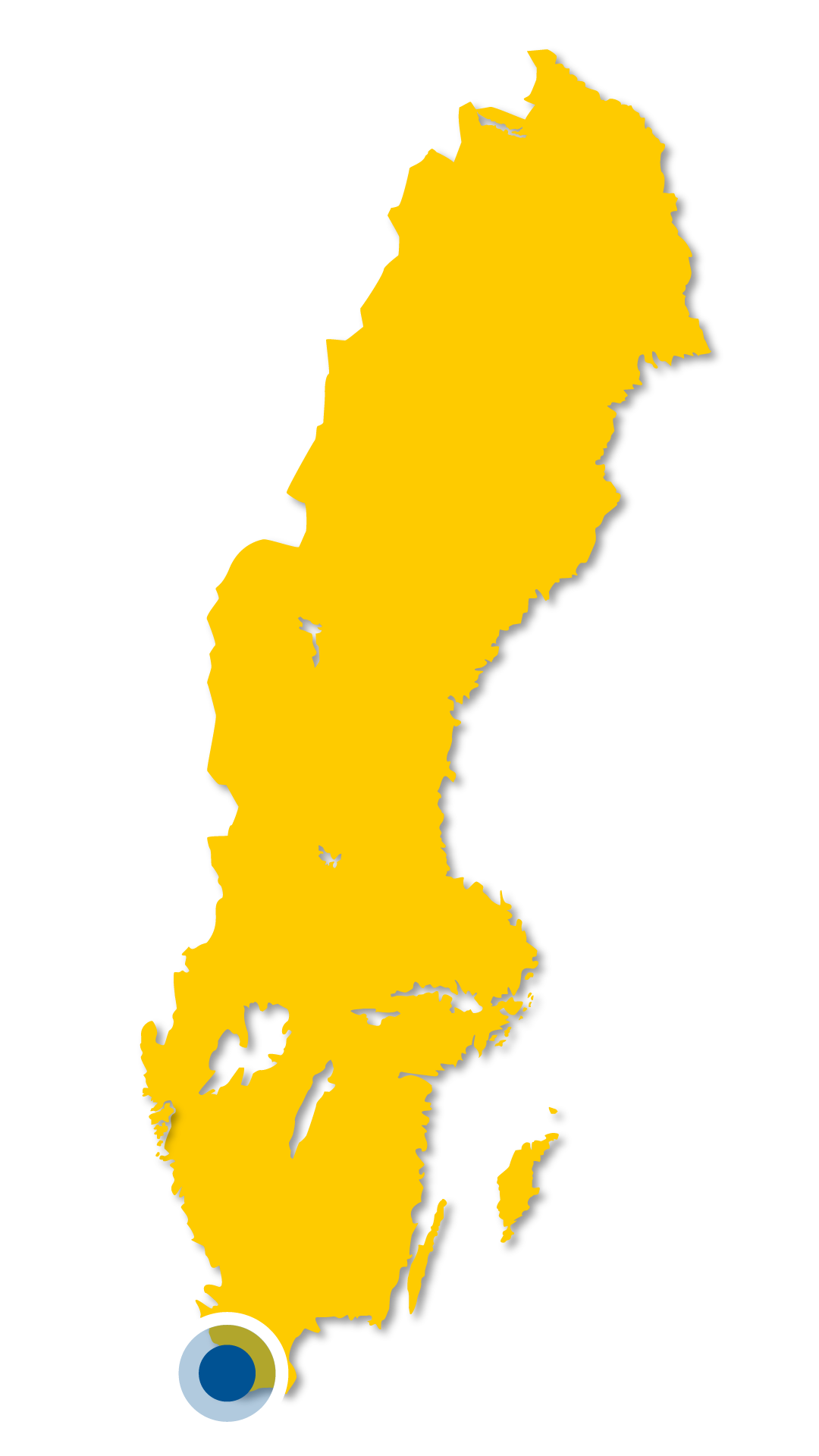 Photo credit: Werner Nystrand
Malmö – a city of contrasts and an international melting pot
All roads in the southern province of Skåne lead to Malmö. The blend of old-world charm and ultra-modern cosmopolitan vibes, together with food and culture from every corner of the globe, make this seaside city a must-see for all visitors.
Last updated
06 November 2023
Malmö is one of the most eclectic cities in Scandinavia. One minute you'll be enjoying Sweden's best falafel, the next, Michelin star meals blending the best of food from the locality and far beyond. Today, home to over 350,000 people, Malmö is a true melting pot of cultures, with residents hailing from over 170 countries. Whether it's sights, culture, food, adventure or nightlife you're after, Malmö has the answer.
If you're wondering what to do in Malmö, the good news is it's all easily reachable. With some 515 kilometres of cycle paths, it's no surprise to hear that Malmö has a well-earned reputation as one of the world's most bike-friendly cities. Skilful city planning pays dividends on a daily basis here, with nothing more than a 15-minute bike ride away.
The Malmö weather is slightly milder than in the rest of Sweden. Located at the edge of the sea, it is a fairly windy city. But in general, you'll find warm, pleasant summers and relatively temperate winters.
Biking by Öresund
Malmö is one of the most bike-friendly cities in the world. Most attractions are reached within 10-15 minutes by bike.
Photo: Werner Nystrand/skane.com
Biking by Öresund
Photo: Werner Nystrand/skane.com
Lilla Torg, Malmö
Photo: Apelöga
Västra Hamnen, Malmö
Photo: Per Pixel Petersson/imagebank.sweden.se
Öresund Bridge, Malmö
Photo: Werner Nystrand/ Malmö Stad Werner Nystrand
Malmöfestivalen in Stortorget
Photo: Pierre Ekman
Malmö – where traditional and ultra-modern collide
Founded in the late 1200s, Malmö, originally belonged to Denmark, only becoming Swedish in 1658. The Old Town is a must on any Malmö sightseeing trip. An island in the heart of the city, it is split into two parts: the Gamla Väster district in the west, filled with historical buildings, and the eastern district, which was revitalised in the 1960s. You'll inevitably end up in Stortorget, the oldest and largest square in Malmö, encircled by beautiful 16th century architecture. One block northeast, you'll find Malmö's oldest building, the 14th century Gothic Saint Peter's Church (St. Petri Kyrka).
Lilla Torg is a square packed with quaint restaurants, bars and cafés and a real treat during the summer especially, when tables and chairs spill out on to the streets full of locals and visitors alike. Even among Malmö's many historical treats, Kockska huset still stands out. The city's second oldest building dates back to 1524, and while visitors aren't allowed inside the main house, you can still sample its charm in its restaurant, Årstiderna i Kockska huset in the cellar.
In stark contrast to the old town charm, Malmö boasts some of the most impressive modern structures in Northern Europe. The Öresund Bridge, famed from the hit Swedish-Danish television series 'The Bridge', is an 8 kilometres railway and motorway bridge that runs from Malmö to Copenhagen across the Öresund strait. It's the longest bridge of its kind in Europe.
Literally towering over the city is another feat of modern engineering, Malmö's Turning Torso. One of the tallest buildings in Scandinavia, this neo-futuristic skyscraper is residential, its 54 floors twisting 190 metres into the sky. The tower is in the centre of the city's trendy Västra Hamnen (Western Harbour) neighbourhood. Located at a former shipyard, this sustainable urban hub has become a magnet for visitors, with plenty to enjoy, including bathing spots, parks, restaurants and cafés.
Malmö Castle
Malmö Castle (Malmöhus slott) was built in 1434 and is the oldest preserved castle in the Nordics.
Photo: Apelöga
Malmö Castle
Photo: Apelöga
Form/Design Center in Malmö
Photo: Daniel Engvall
Moderna Museet in Malmö
Photo: Miriam Preis/imagebank.sweden.se
Malmö Konsthall
Photo: Malmö turism
Malmö Opera
Photo: Oskar Falck/Malmö Turism
Malmö's cultural highlights
In keeping with its city of contrasts identity, just south of the historic Lilla Torg lies the Form/Design Center, an exhibition space celebrating modern art, design and architecture, complete with courtyard and café.
Museum fans will love Malmö Castle (Malmöhus Slott). The oldest preserved Renaissance castle in Scandinavia, it was built on the ruins of a fort and completed in 1542. Today, it also hosts the Natural History Museum of Malmö, Malmö Art Museum and an aquarium. One entry ticket gives you access to everything.
Another of the many things to do in Malmö is Moderna Museet. Converted from a former power station in 2009, Malmö's contemporary art museum is a branch of the capital's Moderna Museet and showcases work by both local and international artists.
Malmö Konsthall, one of Europe's largest contemporary art galleries, is housed in a cavernous 2,000 square metre exhibition space. With contributions from local and international artists and new exhibitions three or four times a year, there is always something fascinating to discover. Meanwhile for those of a musical persuasion, there is plenty of choice from live music venues like Plan B, to the Malmö Live Concert Hall and the Malmö Opera.
Slottsträdgården in Malmö
Slottsträdgården is a 12,000 square metre garden with different themes surrounding Malmö Castle.
Photo: Oskar Falck
Slottsträdgården in Malmö
Photo: Oskar Falck
Kungsparken in Malmö
Photo: Linnea Svensson Arbab
Pildammsparken in Malmö
Photo: Malmö Stad
Ribersborgsstranden, Malmö
Photo: Werner Nystrand
Ribersborgs Kallbadhus, Malmö
Photo: Werner Nystrand
Kayaking in Malmö
Photo: Werner Nystrand/ Malmö Stad
A city surrounded by nature
You'll find plenty of green places to visit to get away from the city buzz for a while. Slottsträdgården, surrounding Malmöhus Castle, is a huge garden resplendent with ornamental plants, orchard, rose, and Japanese gardens, as well as edible crops. Meander along the verdant pathways and enjoy a coffee at the café. Other popular parks include Kungsparken – Malmö's 34-hectare version of Central Park – and Pildammsparken, further to the south. The latter was created around a system of ponds in the 17th century, and is a perfect spot for a picnic as well as hosting performances, concerts and art exhibitions.
When the temperature rises, cool off with a trip to Ribersborgsstranden beach (known to locals as 'Ribban'), a 1.5-kilometre stretch of city beach just 10 minutes from the Old Town. Here you can go for a swim and sauna at the historic Ribersborgs Kallbadhus (open-air cold bath house), or perhaps go kayaking, either out to the coast for great views of the Öresund Bridge, or on an inner city circular tour through the city's canals.
Lyran, Malmö
Lyran offers a Scandinavian menu that changes daily. In addition to their regular menu, they offer alternatives for vegans, vegetarians and pescetarians.
Photo: /Malmö Stad
Lyran, Malmö
Photo: /Malmö Stad
Ruths, Malmö
Photo: Ruths Malmö
Aster, Malmö
Photo: /Malmö Stad
Hyllie Bryggeri, Malmö
Photo: Daniel Martinez
A treat for the tastebuds – Malmö's food and drinks scene
With Denmark and mainland Europe on its doorstep, it's little wonder that Malmö is fiercely proud of its international nature. Malmö restaurants are diverse and plentiful, and whether it's the Michelin two-starred restaurant or sumptuous takeaways based on locally grown raw ingredients, Malmö leaves you spoilt for choice. You'll find fine falafel on almost every street corner, but if you really want to go where the locals eat, head out to the outskirts of the city and sample this genuine Middle Eastern specialty at Falafel N1 or X Falafel. Elsewhere, if it's local delicacies you're after, Lyran fits the bill nicely. Here, the four-course menu changes daily depending on what fresh ingredients are available.
The Michelin two-star establishment Vollmers' mission is to blend local carefully selected produce with modern cooking techniques – a test they've been passing with flying colours since opening in 2011. Lauded by the White Guide, restaurant/deli/bakery Ruths' popularity never seems to wane. The fine Scandinavian inspired cuisine is matched by its ambience – especially in the inner courtyard during the summer. At Aster, located in the hip Varvsstad district, all meals are cooked over an open fire, and you get to sit around crackling flames with your fellow guests.
If you're thirsty, why not try one of Malmö's many craft breweries? The Malmö Brewing and Taproom was founded in 2010, eight years after CEO Anders Hansson persuaded his parents to buy an abandoned building and help him realise his dream to turn it into a brewery. It took a similar leap of faith for the founders of the Hyllie Bryggeri to turn a garage on the outskirts of the city into the thriving independent business it has become today in its new city centre location.
Practical information before your trip to Malmö
Clarion Hotel Malmö Live
Malmö is Sweden's third largest city and Clarion Hotel Malmö Live, with its rooftop and skybar, is located next to the central station.
Photo: Max Nordanåker/Clarion Hotel
Clarion Hotel Malmö Live
Photo: Max Nordanåker/Clarion Hotel
Hotel room at MJ's, Malmö
Photo: MJ'S
Folkets Park, Malmö
Photo: Pierre Ekman
Öresundslekplatsen, Malmö
Photo: Apelöga