Skip to main content
Hiking, Swedish Lapland
The freshwater in Swedish Lapland is so clean that it's safe to drink.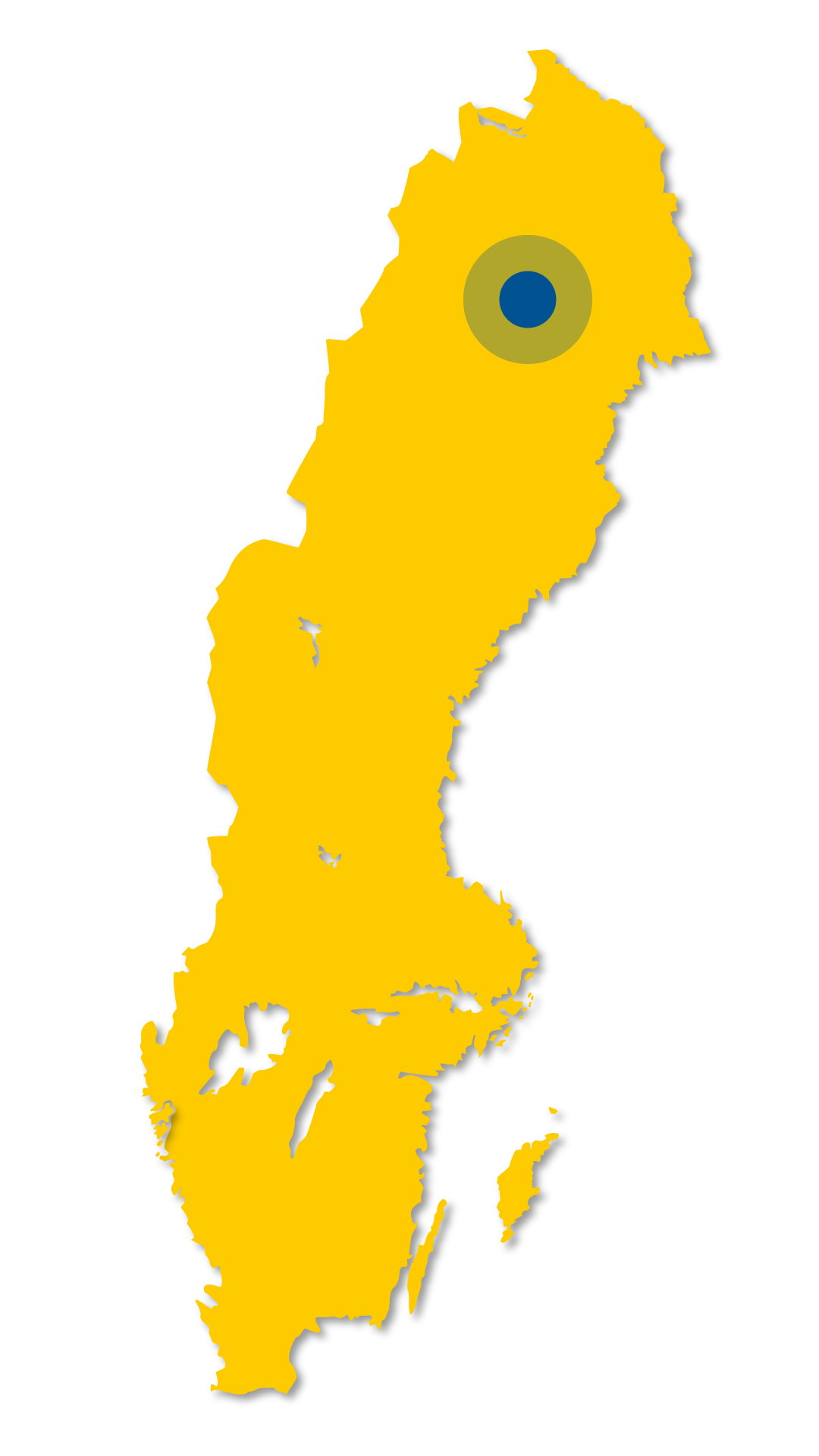 Photo credit: Mattias Fredriksson/Swedish Lapland
Swedish Lapland – a culture-rich natural wonderland
A visit to Swedish Lapland will open up a unique world, combining vast expanses of nature, authentic Sámi culture and culinary specialities. Depending on which season you come, you'll have completely different experiences – but all of them will be memorable.
Last updated
14 July 2023
Swedish Lapland is a region unlike any other. The land of the Midnight Sun and the Northern Lights is home to mountains, forests, marshes, wild rivers and archipelagos. Stretching from Skellefteå in the province of Västerbotten to the northernmost tip of Sweden, this arctic territory covers a quarter of the country. The sheer size and variety of terrain give the outdoor enthusiast endless options, from hiking and fishing to dog sledding and skiing.
There are also plenty of cultural experiences to be had and world-class accommodations that harness its natural surroundings – the most famous examples being Icehotel, Treehotel and Arctic Bath.
The northernmost parts of Sweden, Norway, Finland and Russia are also known as Sápmi, the land of the indigenous population. The Sámi people have lived here for thousands of years. The magnificent nature of Swedish Lapland may seem untouched, but for generations, it's been lovingly used by Sámis, who divide the year into eight seasons. As a mark of respect for nature, they've named every valley and mountain peak in the area.
Reindeer, Swedish Lapland
The indigenous Sámi people have been herding reindeer in Swedish Lapland for thousands of years.
Photo: Tobias Hägg/Airpixels/Swedish Lapland
Reindeer, Swedish Lapland
Photo: Tobias Hägg/Airpixels/Swedish Lapland
Cabins at Geunja in Vindelfjällen
Photo: Swedish Lapland
Sámi folk costume
Photo: Lola Akinmade Åkerström/imagebank.sweden.se
Reindeer meat
Photo: Pernilla Ahlsén/imagebank.sweden.se
Sámi bracelet
Photo: Pernilla Ahlsén/imagebank.sweden.se
Swedish Lapland
Photo: Tobias Hägg/Airpixels/Swedish Lapland
Experience genuine Sámi culture
Immerse yourself in Sámi culture courtesy of authentic experiences such as Geunja Sámi Eco Lodge, peacefully located by a lake in Ammarnäs. Run by the Vinka family, you'll learn about Sami cultural heritage and traditions, as well as the nature and animals with which the Sami people are so intrinsically connected. This off-grid adventure will have you enjoying guided boat trips, hikes in the nearby mountains and perhaps a spot of fishing. Traditional dishes such as reindeer stew and chanterelle soup are cooked over an open fire and you'll sleep in either a Sami-designed, grass-roofed log cabin or a traditional goathie hut.
The Sámi community could teach the rest of the world a thing or two about sustainability. When it comes to their reindeer, very little goes to waste. The meat is a key food source, and the hide is used for rugs. The leather is fashioned by hand into footwear and accessories, while the horn is used for buttons and various objects. Some of these objects are available to buy, such as decorative bags featuring pewter embroidery and felted wool panels. To ensure you buy an authentic Sámi craft, look for the Sámi certification mark. It includes two labels, Sámi Duodji and Sámi Made, and they confirm that the products are genuine Sámi crafts or products made by Sámi people. Read more about Sámi handicrafts and where to buy them.
Swedish Lapland
There are several ecotourism tour operators in Swedish Lapland with whom you can experience the Sámi lifestyle.
Photo: Staffan Widstrand/imagebank.sweden.se
When to visit Swedish Lapland?
Spring: Early spring is considered the best season among many locals. The sun returns and it's the best time to go skiing, go on a snowmobile tour or enjoy an outdoor 'fika' in the snow. In late Spring, the reindeer give birth to their calves and it's low season in the region, ideal for those travelling on a budget.
Summer: June is the month of the Midnight Sun, but Swedish Lapland offers a midnight light pretty much the whole summer that will amaze visitors that haven't experienced anything like it before. Enjoy outdoor activities like hiking, biking or swimming around the clock.
Autumn: Early autumn is the ideal season for hiking in Swedish Lapland. The mosquitos are fewer and nature shifts into a colourful pantry full of mushrooms and berries. Autumn is also hunting season.
Winter: The snow lightens up the short days and the spellbinding Northern Lights paint the sky green, pink and purple. Winter is the longest season in Swedish Lapland and the high season for international visitors. Dress warmly, and the possibilities for genuinely memorable outdoor activities are endless.
Northern lights, Swedish Lapland
The most common colour of the Northern Lights is green, but it can also change to pink and purple.
Photo: Peter RosénSwedish Lapland
Northern lights, Swedish Lapland
Photo: Peter RosénSwedish Lapland
Midnight sun, Swedish Lapland
Photo: Peter Rosén/Swedish Lapland
Skiing, Riksgränsen
Photo: Lapland resorts
Dog sledding adventure
Photo: Anna Öhlund/imagebank.sweden.se
Team of huskies
Photo: Asaf Kliger/imagebank.sweden.se
Sarek National Park, Laponia
Photo: Anders Ekholm/Folio/imagebank.sweden.se
Natural light shows and outdoor adventures
The Northern Lights are a draw for locals and international visitors alike. Aurora Sky Station in Abisko is considered one of the best places in the world to experience this natural light show. The electromagnetic interplay between the sun and the earth that creates this phenomenon happens all year round, but you'll only be able to see it during the darker months – August through to April. Come May, the Northern Lights give way to the Midnight Sun, defined as the consecutive 24 hours of sunlight you get north of the Arctic Circle between May and mid-July.
Take advantage of the endless days to explore the varied landscape by setting off on a hike or foraging excursion. Essense of Lapland – headed by food creator and culture guide Eva Gunnare, offers educational guided tours across the marshes, forest and mountains near her beautiful hometown Jokkmokk.
The region is a dream for fly fishing enthusiasts, who take full advantage of its thousands of streams and lakes, as well as a 1,500 kilometres long coastline. Add to that four national rivers, and you have endless scope to find your ideal fishing spot. The Torne River is one of the most productive salmon rivers in the world – up to 100,000 fish ascend the water every summer on their way to their spawning grounds. Other fish you're likely to catch are pike, trout and whitefish.
Swedish Lapland is a winter paradise with a long skiing season. At the famous Riksgränsen ski resort you can hit the slopes as late as Midsummer. For something a little different, Aurora Safari Camp, Sweden's first-ever wintertime glamping site, offers hot air balloon rides by night or day, allowing you to admire snow-covered treetops and the Råne River Valley from high above. Aurora Safari Camp also offers many other arctic activities, including snowmobile tours, cross-country skiing and dog sledding. Svedjekojan Husky Farm, a 25-minute drive from Piteå, is another company offering excellent dog sledding excursions.
The UNESCO World Heritage Site of Laponia, with its vast expanses of nature, is a true haven for adventurers looking to get away from it all.
Huuva Hideaway
Huuva Hideaway in Liehittäjä, Swedish Lapland, offers a range of dining experiences.
Photo: Swedish Lapland/imagebank.sweden.se
Huuva Hideaway
Photo: Swedish Lapland/imagebank.sweden.se
Kalix Caviar
Photo: Tina Stafrén/imagebank.sweden.se
The Veranda at Icehotel, Jukkasjärvi
Photo: Asaf Kliger/ Ice Hotel
Sámi food
Photo: Anna Öhlund/imagebank.sweden.se
Gammelstad Church Town, Luleå
Photo: Ted Logart/Swedish Lapland
Swedish Lapland's culinary culture and top restaurants
The Sámi culinary tradition greatly influences Swedish Lapland's food culture. Local produce takes centre stage, whether it's cultivated or foraged in the wild. Reindeer is an important part of the diet and is sometimes smoked in the traditional way of preserving meat. Elk meat is another staple source of protein, while fish lovers can tuck into locally caught Arctic char and whitefish.
Kalix Caviar is another must-try delicacy. It's the first Swedish food product to have received Protected Designation of Origin (PDO) status by the EU, joining the ranks of Champagne, Parma Ham and Stilton Cheese. Swedish Lapland has plenty of cheese, too, much of which is produced at small-scale dairy farms, such as Svedjan Ost.
The unique flavours of Swedish Lapland can be sampled at restaurants across the region. The Veranda at Icehotel serves up a 12-course tasting menu. Luleå's Restaurang CG has plenty of meat dishes to choose from, as well as some fish-based ones, including Kalix Caviar. Meanwhile, Huuva Hideaway, a retreat located in the small village of Liehittäjä, offers a range of experience-driven dining experiences, all in keeping with Sámi tradition, and always with an educational twist.
Swedish Lapland is a generous chunk of Sweden with a distinctive, multifaceted identity – one that's likely to linger long after you've left.
Practical information before your trip to Swedish Lapland
Suite at Icehotel, Jukkasjärvi
Art suite room designed by Edith Van de Wetering & Wilfred Stijger.
Photo: Asaf Kliger © ICEHOTEL
Suite at Icehotel, Jukkasjärvi
Photo: Asaf Kliger © ICEHOTEL
Treehotel in Harads, Swedish Lapland
Photo: Swedish Lapland
Arctic Bath in Harads, Swedish Lapland
Photo: Håkan Stenlund/Swedish Lapland
Lapland View Lodge
Photo: Michael Törnkvist
Niehku Mountain Villa
Photo: Philipp Herfort Photography/Niehku
Sapmi Nature Camp
Photo: Lennart Pittja/Sápmi Nature/Visit Sweden