Skip to main content
Örebro Castle
Örebro Castle is a medieval castle located on a small island in the river Svartån in the middle of the city.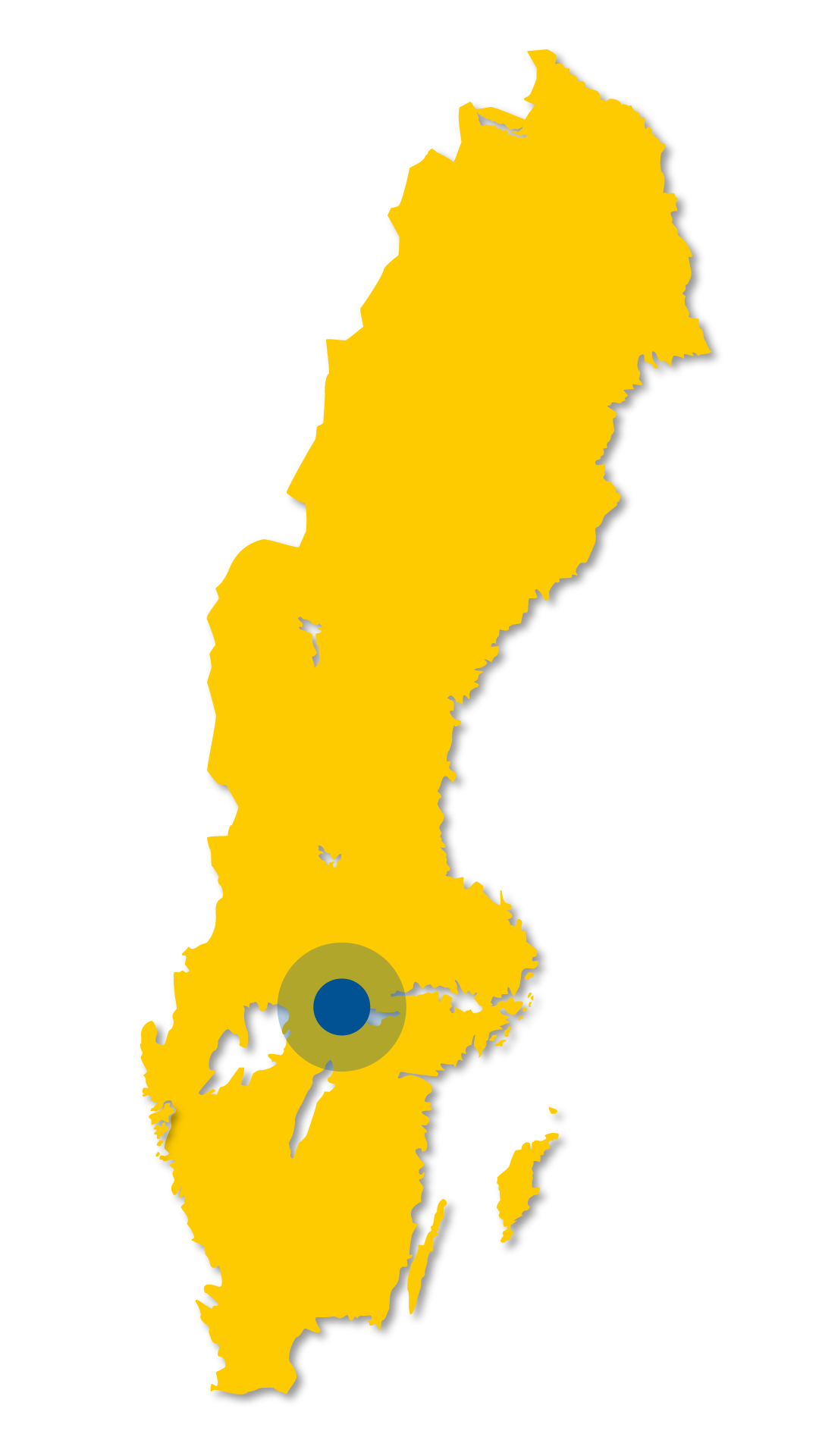 Photo credit: Domingo Leiva
Örebro – where history and contemporary culture converge
Örebro is a manageably-sized city with diverse activities and sights to take in, along with natural beauty spanning land and water.
Last updated
30 November 2021
Örebro, conveniently located between Stockholm and Gothenburg, strikes the perfect balance between intriguing history and contemporary appeal. Centuries back, it was a hub for transport and trade. During the second half of the 19th century, it emerged as a shoe manufacturing centre. In modern times, Sweden's sixth largest city has also bred its fair share of celebrities – Nina Persson, lead singer of the world-renowned band The Cardigans hails from these shores and so too Prince Daniel, the husband of Crown Princess Victoria of Sweden.
Popcorn sculpture in Örebro
The famous popcorn cluster by Örebro-born artist Anton Hjärtmyr was part of the Open Art gallery 2015, now found in Hästhagen outdoor area.
Photo: Örebrokompaniet
Popcorn sculpture in Örebro
Photo: Örebrokompaniet
Örebro Castle
Photo: Örebrokompaniet
Wadköping
Photo: Örebrokompaniet
Wadköping
Photo: Örebrokompaniet
Open Art in Örebro
Photo: Jonas Classon
Open Art in Örebro
Photo: Magnus Westerborn
Örebro's cultural highlights
Steeped in history, Örebro is a fascinating city to wander around, and Örebro Castle is its crowning glory. The castle probably started its days in the 14th century, as a stronghold with a prison, before morphing into a palace during the reign of King Gustav Vasa. Today, the palace offers activities of all kinds – ghost walks, treasure hunts, and guided tours to mention but a few. Don't miss the onsite museum and its fascinating exhibits charting the centuries-long story of the castle and its long line of former residents: from witches and prisoners to royalty.
The old town of Wadköping is a village within the city. The main street is lined on one side by red wooden houses from the 17th through 19th centuries, moved here from other parts of the city. Across from them, you'll get a glimpse of how the town looked after the fire of 1854. This picturesque district is filled with museums, cafes, artisan workshops and exhibitions, all highlighting the rich history of Örebro, bringing the past to life.
As for contemporary culture, Örebro Konsthall – or ÖBKHL as it's popularly called – is a definite draw. Its strong line-up of exhibitions focuses on international and Swedish artists.
Open Art – a contemporary art biennale – transforms Örebro into an outdoor gallery, with sculptures, installations and textile art dotting the urban landscape. Some of the works from previous editions have stayed put – such as the famous popcorn cluster by Örebro-born artist Anton Hjärtmyr.
Bergslagsleden in Örebro
The viewpoint of Rusakulan at Bergslagsleden hiking trail.
Photo: Örebrokompaniet
Bergslagsleden in Örebro
Photo: Örebrokompaniet
Tiveden National Park
Photo: Pavel Koubek
Tiveden National Park
Photo: Pavel Koubek
Dimbobaden at Lake Hjälmaren
Photo: Örebrokompaniet
Hike, bike and SUP your way through Örebro's spectacular nature
Örebro is surrounded by natural beauty in various forms – from enchanted forests to its stunning botanical garden. Lake Hjälmaren, Sweden's fourth largest lake, is located some 45 minutes by car from Örebro. Head here for a wealth of experiences including boating, fishing, swimming and SUP excursions.
Tiveden National Park – known as Sweden's southernmost wilderness – covers some 2,000 hectares, stretching across hilly terrain interspersed with rift valleys and enormous boulders. Take in the views from Trollkyrkobergen mountains and bring swimwear as you'll no doubt be tempted to take a dip at Vitsand beach.
Tiveden is a hiker's paradise with 34 kilometres of marked trails winding their way through this beautiful national park. Choose the option that's right for you – trails range from 1 kilometre to 9.5 kilometres in length.
Bergslagsleden is another must for hikers and bikers. Measuring 280 kilometres – starting at Kloten and ending at Tiveden – this 17-section trail runs through Örebro region, leading you to many of its beauty spots and points of cultural interest, including old ruins and mining areas. Botany enthusiasts can look out for as many as twelve species of orchid, many of which thrive in the disused mine Lejagruvan, nestled within Lejakärret nature reserve.
Svampen in Örebro
The water tower 'Svampen' (The Mushroom) is Örebro's most famous building. Here you can enjoy the view of the city from the restaurant, café or sky bar on the top.
Photo: Jimmy Fuhr
Svampen in Örebro
Photo: Jimmy Fuhr
Svampen in Örebro
Photo: Örebrokompaniet
Matbaren Gro in Örebro
Photo: fotografnyangen
Restaurant MULL at Jannelunds Gård
Photo: Agnes Maltesdotter/Visit Sweden
Örebro's gastronomy and best dining experiences
Örebro and its surroundings are awash with quality restaurants. Restaurant MULL – run by eco-farm Jannelunds Gård outside Örebro – is a farm-to-table affair serving up seasonal produce picked onsite and cooked with a high level of creativity – think miso-glazed broccoli with blueberry sorbet to follow. The restaurant is one of many excellent sustainable recommendations in the online dining guide Plant Based by Sweden.
Matbaren Gro is another quality option if you're keen on vegetarian and vegan cuisine such as onion soup and dumplings filled with forest mushroom.
Restaurant Skybar Svampen is one of central Örebro's favourite dining spots. You'll be tucking into your meal at the top of this iconic mushroom-shaped building, offering panoramic views. Don't miss their delicious mushroom soup!
Saluhallen – Örebro's market hall – is brimming with delicacies offered by a range of individual businesses, with focus on anything from gourmet burgers to fresh fish and locally sourced vegetables. A diverse affair, it mirrors the very identity of the city itself.
Katrinelund Gästgiveri & Sjökrog
Katrinelunds Gästgiveri & Sjökrog is a hotel and restaurant, offering relaxing accommodation and amazing food. It is idyllically located by Lake Hjälmaren, 25 kilometres east of Örebro.
Photo: Katrinelund
Katrinelund Gästgiveri & Sjökrog
Photo: Katrinelund
Clarion Collection Hotel Borgen, Örebro
Photo: Nordic Choice Hotels
Stadsparken in Örebro
Photo: Örebrokompaniet
Skoindustrimuseet in Kumla
Photo: Skoindustrimuseet
Lost City water park in Gustavsvik
Photo: Lost City
PRACTICAL INFORMATION BEFORE YOUR TRIP TO ÖREBRO