Skip to main content
We use cookies to ensure that we give you the best experience and to provide additional functionality on our website. If you would like to, you can change your cookie settings at any time. See our cookie policy.
Limestones
A 'rauk' is a limestone monolith created by natural erosion during the last Ice Age. They can be found all around Gotland, on land, along the coastline and under the waters around the island. These ones are located on Fårö, an island just northeast of Gotland
Photo credit: Jerker Andersson/imagebank.sweden.se
Fårö - Ingmar Bergman's favourite island
Fårö is a Baltic sea island north east of Gotland, Sweden's largest island. Once you cross the strait between the islands, you will notice how Fårö's nature differs from the Swedish mainland. The sand is finer and the landscape more barren, with tall sea stacks.
Last updated
31 August 2021
Things to see and do in Fårö
For a bit of culture and history, start out with a visit at Fårö Museum where you will learn more about the island's history, which spans over 4 000 years. The museum will introduce you to the first settlers of the island, as well as to the Viking and medieval times of Gotland.
Visit Bergman Center
Naturally located on Fårö is the Bergman Center, a cultural center dedicated to the world-renowned and legendary Swedish film director and writer Ingmar Bergman, who lived and worked on the island for over 40 years. The center offers seminars, films, shows and tours like the "big Bergman safari" and every year in week 26, they arrange the Bergman Week. More information is available on Guided tours - Bergman center.
The Bergman Center
The Bergman Center is a cultural center that focuses on the life and artistic achievements of legendary Swedish director and writer Ingmar Bergman on Fårö, north east of Gotland.
Photo: Jerker Andersson/imagebank.sweden.se
The Bergman Center
Photo: Jerker Andersson/imagebank.sweden.se
Fårö Museum
Photo: Jerker Andersson/imagebank.sweden.se
Crêperie Tati and Kutens Bensin
On this old gas station, among old vehicles, rusty refrigerators and oil barrels you can sit down and enjoy delicious and generous portions of crispy crêpes and savoury galettes. The motto of Crêperie Tati is "Fuel for the soul".
Summer night concerts and local food at Stora Gåsemora
Since 2011 multiple Swedish artists has performed on Gotland's most beautiful venue, in an old barn at the farm Stora Gåsemora. Among them Laleh, First Aid Kit and Veronica Maggio, just to mention a few. For information about this summers concerts and tickets, visit sommarkvallpagasemora.se
The menu at Gåsemora Gårdskrog is focusing on local produce and caters to both omnivores and vegetarians.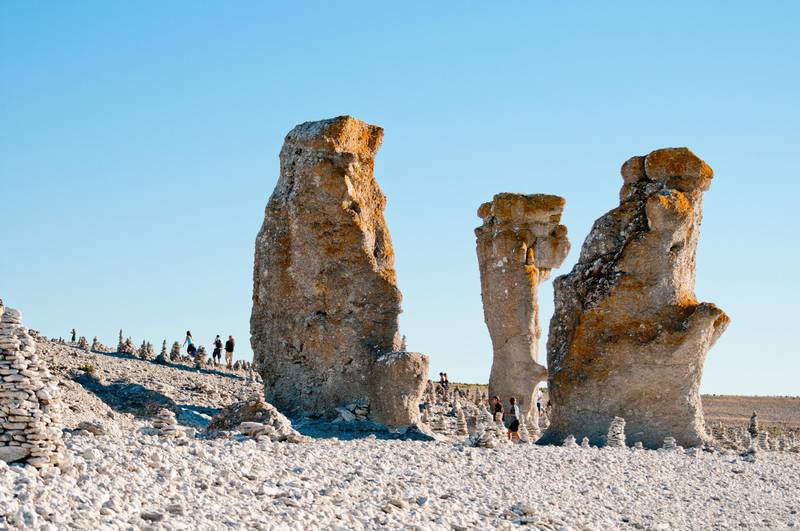 Marvel at Langhammars Sea Stack Field 
Langhammar's Sea Stack Field is a beautiful landscape, full of "raukar" – stacks of Sweden – towering against the sea. Some gorges are more than 8 metres high. Make sure to wear comfortable and sensible shoes like trainers while walking here. There is also no place to buy food or drinks, so bring water and whatever you would like to nibble on. Needless to say, the garbage you bring goes with you when you leave. 
Don't forget to take a swim at the Sudersand beach
A must on your Fårö holiday should be a visit to the Sudersand beach – it is probably one of the best beaches of Gotland. Its soft, powdery sand and shallow waters makes it a perfect beach for families with kids.
Fårö island
Sunset over the Baltic sea, seen from Fårö island.
Photo: Jon Flobrant/Unsplash
Fårö island
Photo: Jon Flobrant/Unsplash
Lighthouse on the island of Fårö, Gotland
Photo: Photo by Oskar Wimmerman on Unsplash
Getting to Fårö with Fåröfärjan
To get to Fårö you need to catch the Fårö ferry, Fåröfärjan, between Fårösund (location on map) on Gotland and Broa on Fårö. The ferry is free of charge and departs regularly, sometimes up to 4 times per hour. Read more about the ferry between Gotland and Fårö and view the time schedule at Trafikverket.se - Fårösundsleden.
Accommodation on Fårö, Gotland - where to stay? 
Fårö can offer hotels and hostels, camping sites, cottages and terrace villas. You can also find some really quaint and cute B&B's on the island. You can read more about available accommodations here: gotland.com/accommodation.