Skip to main content
Biking holiday
There are several mountain bike trails available in Småland, with varied terrain ranging from asphalt or gravel to pump tracks and technical courses. Småland has a varied nature, which is great for outdoor activities. In fact, 97% of Sweden consists of nature, meaning that outdoor adventures are always close by.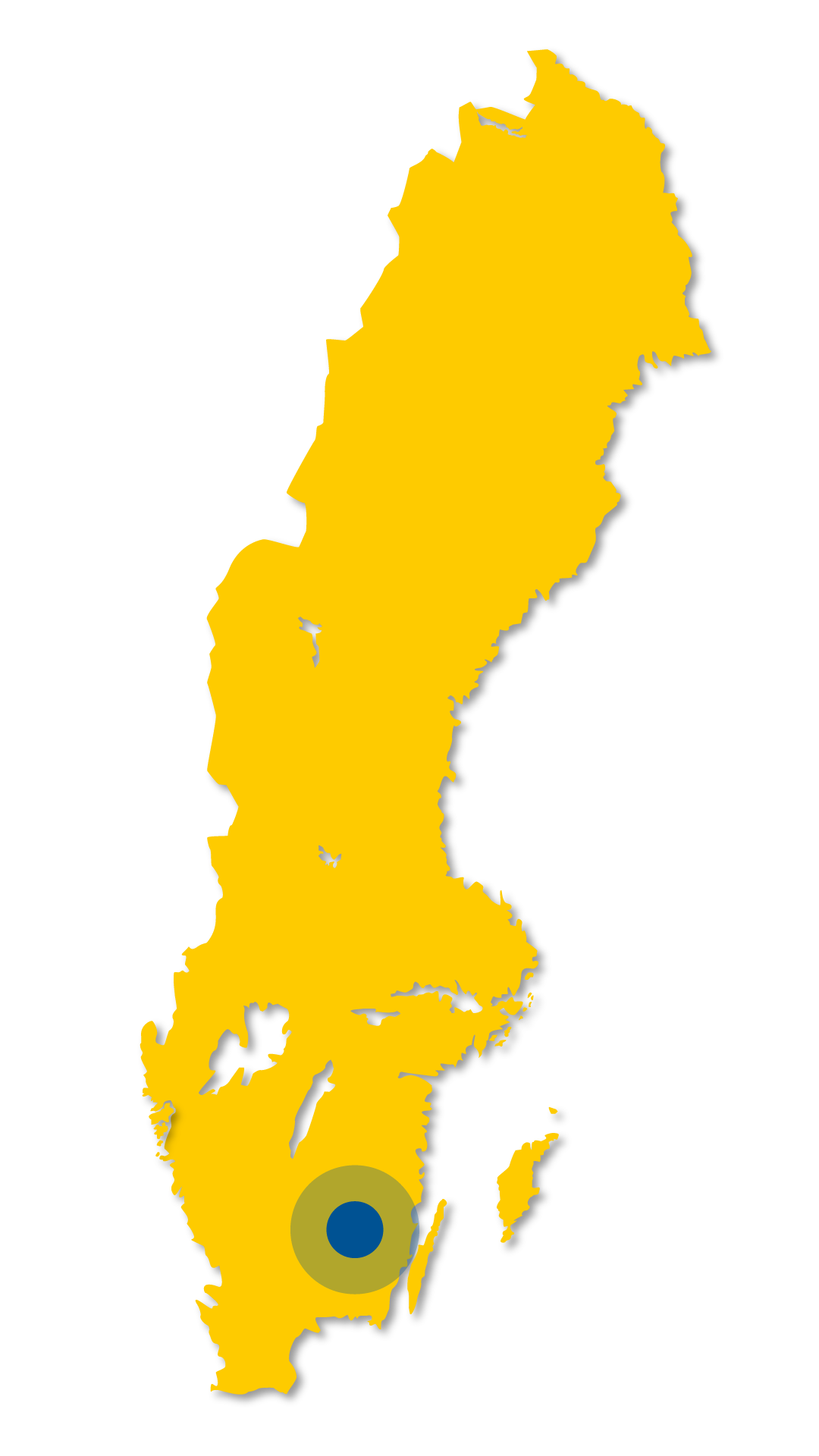 Photo credit: Patrik Svedberg/imagebank.sweden.se
Småland – as Swedish as it gets
'Sweden for real' is the official slogan of the region of Småland in the southeast of Sweden. With a rich culture, pristine nature and a proud culinary tradition – also the birthplace of IKEA and famed children's book author Astrid Lindgren – Småland is as Swedish as it gets.
Last updated
29 June 2023
A visit to Småland takes you to a region of dense old-growth forests, sparkling lakes, quaint red cottages and vibrant green meadows. It perfectly balances nature and culture, with over 5,000 lakes and rivers, 200 kilometres of coastline, 400 nature reserves and several cities offering world-class dining and cutting-edge art scenes.
One of the larger provinces in Sweden, Småland is also a hub of innovation and creativity. The Kingdom of Crystal (Glasriket) – a cluster of villages between the cities of Kalmar and Växjö – has been the centre of the country's world-renowned glassblowing community since 1742. And the small town of Älmhult, on the central southern border of the region, is the site of the first IKEA store, now the IKEA Museum.
Kosta glasbruk, Småland
Kosta Glasbruk is one of the many glass factories in the area called the Kingdom of Crystal (Glasriket).
Photo: Lars Nilsson/Destination Småland
Kosta glasbruk, Småland
Photo: Lars Nilsson/Destination Småland
IKEA Museum in Älmhult
Photo: Per Pixel Petersson/imagebank.sweden.se
Jönköping, Småland
Photo: Peter Appelin/Visit Småland
Kalmar Castle
Photo: Malcolm Hanes/Johnér/imagebank.sweden.se
View over Växjö, Småland
Photo: Alexander Hall/Visit Småland
Småland's cities have a lot to offer
While the small towns and verdant countryside are this region's claim to fame, Småland's cities offer the perfect harmony between urban life, outdoor activities and timeless culture – Sweden for real.
Jönköping
Sitting on the southern edge of Lake Vättern – the second largest lake in Sweden – city life, beach vibes and outdoor adventures blend seamlessly in Jönköping, making it the perfect base for exploring the region. The city has a unique collection of museums – such as the Match Museum (Tändsticksmueet) and Jönköpings Läns Museum where you can visit exhibitions about painter John Bauer and his art. Also, don't miss the Husqvarna Museum, featuring royal weapons, motorcycles and other equipment made by this internationally famous brand named after a town just east of Jönköping.
Kalmar
To taste the coastal life, visit Kalmar on Småland's southeast coast. This seaside city is awash in history, with its 16th century Kalmar Castle – complete with moat. It also offers several local boutiques, cosy cafés and restaurants. Do your taste buds a favour and book a meal at Postgatan, serving small dishes and à la carte based on local ingredients, combining Swedish flavours with an international twist.
You can't leave Kalmar without popping over to the stunning island of Öland. In the summer, you can take a ferry to this popular island or drive on the connecting 6 kilometres long bridge. With white sand beaches and endless hiking trails, this is a favourite summertime escape for Swedes from all over the country, including the royal family, who has summered here since the 16th century. You'll find yourself spoilt for choice with the large selection of restaurants on the island.
Växjö
Växjö is a 'small metropolis' in the heart of Småland. Located a little over an hour by train inland from Kalmar and 2,5 hours from Copenhagen, Växjö's culinary scene rivals any larger city. Several restaurants are featured in the White Guide (Scandinavia's leading restaurant guide), and the hotel/restaurant PM & Vänner was awarded a Michelin star for its modern take on Småland cuisine. In Växjö, you'll also find the House of Emigrants, with stories of the great emigration to America and Sweden's Glass Museum.
Forests of Småland
A hot air balloon ride over the lush forests of Småland. The rural parts of Småland are vivid, with a rich wildlife and numerous historical sites and villages to visit.
Photo: Patrik Svedberg/imagebank.sweden.se
Forests of Småland
Photo: Patrik Svedberg/imagebank.sweden.se
The John Bauer Trail, Småland
Photo: Patrik Svedberg/imagebank.sweden.se
Ostkustleden Hiking Trail, Småland
Photo: Cornelia Höglind/Visit Småland
The Emigrants Trail, Småland
Photo: Visit Småland
Kayaking outside Västervik
Photo: Ostkustenkajak
Discover Småland's mythic forests
Småland offers a variety of outdoor activities, from hiking and cycling to fishing. With thousands of lakes and hundreds of kilometres of coastline, the chance to go kayaking or canoeing is never far off.
There's a stretch of forest between Gränna and Husqvarna so beautiful it served as a muse to famed Jönköping painter John Bauer, known for his landscape and nature paintings with gnomes, trolls and other mythological creatures from Swedish folklore. The 50 kilometres long hiking trail, known as the John Bauer Trail (John Bauerleden), takes you through lush green meadows, deep forests, stunning coastal walks and charming villages. Thanks to Sweden's Right of Public Access, you can camp almost anywhere you please along the way.
If you're up for a longer adventure, strap on your hiking boots and embark on the 160 kilometres long Ostkustleden Trail, which snakes through old-growth forests, past tranquil lakes and along the coastline. Lilla Hycklinge, one hour up the coast from Kalmar, is this circular route's most popular starting point. Every 20 kilometres, you'll find a cabin, open year-round, to recharge your batteries before hitting the trail again the following day.
Walk in the footsteps of the emigrants on The Emigrant's Trail (Utvandrarleden), a 120 kilometres long circuit for walking or cycling. The paths and roads go through old emigrant settlements, the Kingdom of Glass, red cottages and endless stone walls. If you wish to stay the night, B&Bs, hotels, and hostels are along the road.
In north-eastern Småland, you'll find Västervik and Oskarshamn, the hometowns of the Tjust archipelago and the Misterhult archipelago. Discover a magical world of beautiful islands and skerries scattered along the Baltic Sea coastline, best explored by boat or kayak.
Eksjö, Småland
Eksjö is a 600-year old wooden town in Småland. The unique wooden town is one of Sweden's best-preserved wooden towns.
Photo: Per Pixel Petersson/imagebank.sweden.se
Eksjö, Småland
Photo: Per Pixel Petersson/imagebank.sweden.se
Vandalorum, Småland
Photo: John Nelander/Smålands Turism
Astrid Lindgren's World, Småland
Photo: Astrid Lindgrens Värld
Moose in Småland
Photo: Alexander Hall/imagebank.sweden.se
Småland culture – from historic heritage to childhood classics
Småland is rich in cultural heritage, and while passing by the numerous red wooden houses in the countryside, it's easy to think that time has stood still. And sometimes, it has. The idyllic town of Eksjö boasts more than 50 listed wooden buildings from the 17th, 18th and 19th centuries, making it one of the best-preserved wooden towns in Europe. With its cobblestoned streets, pastel-coloured facades and cosy cafés, it's truly a hidden gem.
For a more contemporary experience, head to Vandalorum in Värnamo. This international art and design centre moves freely between subjects and disciplines. The museum restaurant Syltan, where everything is cooked and baked from scratch, is also well worth a visit.
A favourite for families, and those who are young at heart, the theme park of Astrid Lindgren's World in Vimmerby will unleash your childhood fantasies. This is where famed Swedish children's book author Astrid Lindgren was born, who may be best known for the international classic "Pippi Longstocking". And here, her books come to life – recreated down to the last detail in this magical world where imaginations can run free. If you'd like to stay the night and explore more of the park and surroundings, Astrid Lindgren's World offers self-catering accommodation – from camping to cottages.
Isterband
Isterband is a classic Swedish dish fromSmåland, here served with lingonberries.
Photo: Hans Runesson/Visit Småland
Isterband
Photo: Hans Runesson/Visit Småland
Polkagrisar candy canes
Photo: Tina Stafrén/imagebank.sweden.se
Polkagris
Photo: Tina Stafrén/imagebank.sweden.se
PM & Vänner, Småland
Photo: Tina Stafrén/imagebank.sweden.se
Sample Småland's diverse food scene
In keeping with its claim of offering 'Sweden for real', Småland is home to some of the country's most iconic dishes. 'Ostkaka' translates directly to 'cheese cake' and traditionally, rennet is added to a milk and flour mixture giving the cake a soft, curdy texture. (The rennet can be exchanged for microbial or vegetable enzymes). Ostkaka is not as sweet as American-style cheesecake but has a slightly sugary, almondy taste perfectly complemented by some jam and a dollop of whipped cream.
'Isterband', a pork sausage with a slightly tangy bite, is another Swedish classic with Småland roots and typically served with dill stewed potatoes, pickled beetroots and sometimes with lingonberry jam. And if you've eaten a serving of Swedish meatballs, you are well-familiar with the tart red lingonberry. Lingonberries can be found in the forests between August and September. Lingonberry jam is a favourite accompaniment for meat dishes across Sweden.
Småland is also the origin of the candy cane. A short half-hour drive up the lake from Jönköping takes you to the charming little town of Gränna, where one of the world's most beloved sweets was created. Known in Sweden as 'polkagris', you'll instantly recognise these red and white striped peppermint candies. It was back in 1859 that single mother Amalia Erikson whipped up the first batch of these stripy confections. The first versions took the shape of peppermint rocks but later took the form of the banded canes that are now a Christmas staple worldwide. If you want to stretch and twist your own minty treat, visit Grenna Polkagriskokeri.
As for fika tips, Nilssons Konditori in Oskarshamn is an institution. Located in the southern province of Småland, it swung open its doors in the 1920s and has retained its fine traditional patisserie craft ever since. 2018 it was crowned patisserie of the year in the prestigious White Guide. And in 2017, owner Anders Oskarsson was awarded 'World Confectioner of the Year" by the International Union of Bakers and Confectioners.
For an upscale dining experience, head to PM & Vänner in central Jönköping. This gastro hotel has a philosophy based on 'forest, lake and meadow' and has been awarded one Michelin star and a Michelin green star.
Practical information before your trip to Småland