Skip to main content
Kalmar Castle
Aerial view of the historical Kalmar Castle.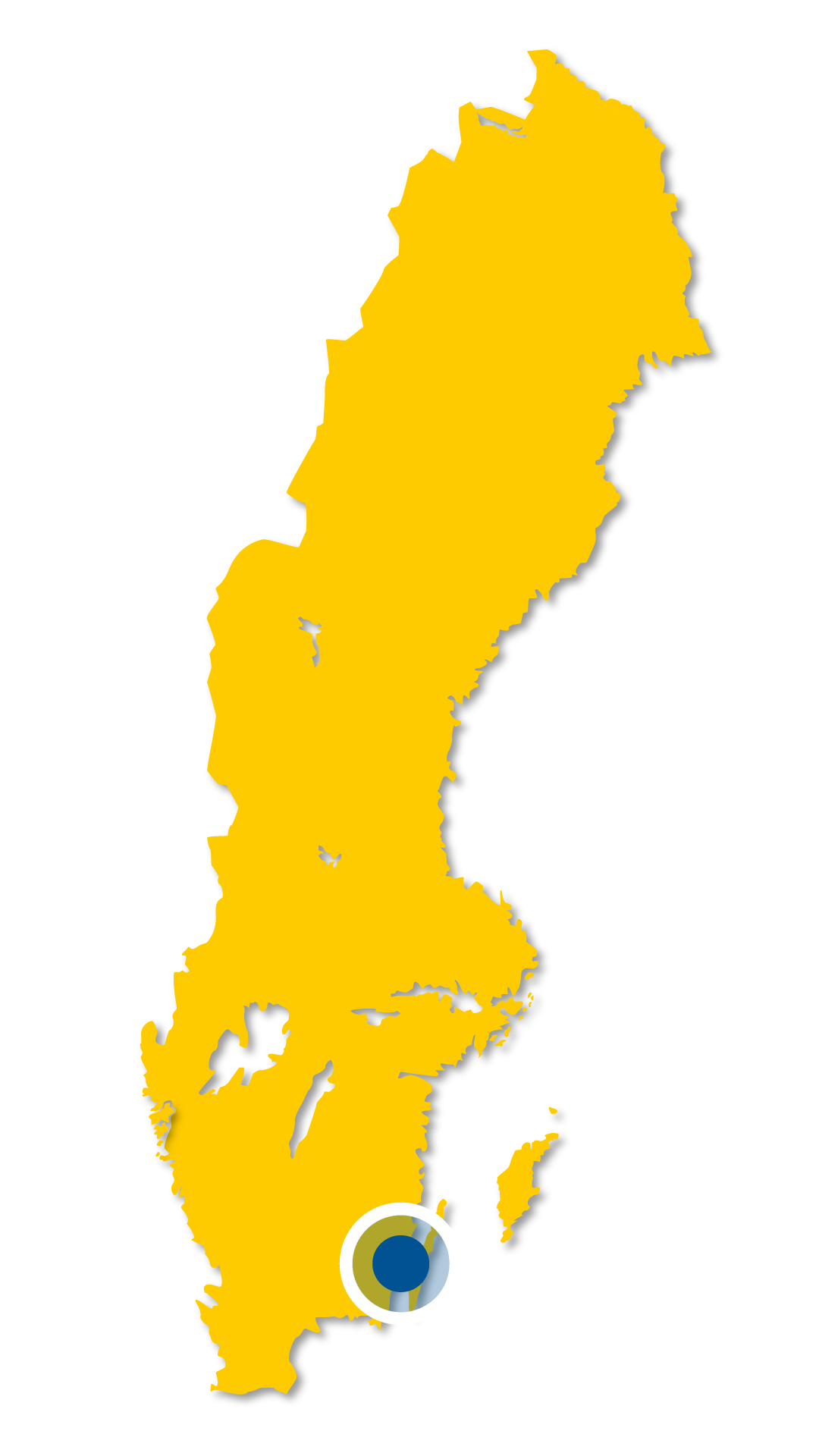 Photo credit: Malcolm Hanes/Johnér/imagebank.sweden.se
Kalmar – a historical city by the sea and a gateway to Öland
Nestled in Småland county, the city of Kalmar is celebrated for its historic architecture, seaside charm and close proximity to the island of Öland.
Last updated
30 November 2021
Kalmar is a historically significant city located on the southeast coast of Sweden in the idyllic county of Småland. Situated by the Baltic Sea with direct access to the beautiful island of Öland, through the Öland Bridge, this coastal gem is a destination in its own right, with plenty to see and do across culture and outdoor activities.
The medieval centre of Kalmar tells the story of the city's past as one of Sweden's most significant centres of power. Located a little north of what was the Swedish/Danish border during the Middle Ages – when the counties of Skåne and Blekinge were Danish territories – the city's historic prominence is underscored by the imposing Kalmar Castle.
Kalmar Castle, Småland
Beautiful Kalmar Castle in Småland at sunset.
Photo: Jörgen Tannerstedt
Kalmar Castle, Småland
Photo: Jörgen Tannerstedt
Historical city of Kalmar
Photo: Alexander Hall
Kalmar Cathedral
Photo: Alexander Hall
Kalmar Country Museum
Photo: Marcus Funke;
A world of Dinosaurs in Kalmar
Photo: Albin Rylander
The Öland Bridge
Photo: Magnus Bremefors
Discover the fascinating history and architecture of Kalmar
To get a flavour of Kalmar – and quickly grasp why it's held in such high regard among architecture aficionados – simply set off on a city stroll. The cobblestone streets of the Old Town are lined with well-preserved buildings from the 18th and 19th centuries. This area is also home to the city's crowning glory, Kalmar Castle, which started its days as a fortified tower in the 12th century before it was fashioned into a magnificent renaissance castle by King Gustav Vasa some four centuries later. Take it all in by joining a guided tour or catch an exhibition – and when it's time to refuel, enjoy a delicious 'fika' at the Castle restaurant.
Kvarnholmen is one of Kalmar's main islands, on which "the new" city was established in the mid-17th century, when it was shifted from what is now known as the Old Town. This unique neighbourhood – with its old city wall – is studded with historical buildings. Among the many highlights, keep an eye out for the 17th century buildings Castenska Gården and Kalmar Cathedral, designed in classical Baroque style by Nicodemus Tessin the Elder.
Head to Kalmar County Museum to delve deeper into the fascinating history of Kalmar and its surroundings. Highlights include parts of the centuries-old shipwreck Regalskeppet Kronan, which sank during battle in the 17th century – as you enter the museum, a couple of the mighty ship's canons stand to attention to welcome you.
Kalmar guest harbour
Aerial view of Kalmar guest harbour in the city centre, next to the train station and close to Kalmar Castle.
Photo: Linus Sandvide
Kalmar guest harbour
Photo: Linus Sandvide
Kayaking in Kalmar
Photo: Olivia Idh
Stensö peninsula, Kalmar
Photo: Adam Humlesol
Kalmarsundsbadet
Photo: Linus Sandvide
Kalmar – a paradise for hikers, bikers and water activity fans
Kalmar's varied nature – incorporating lush, open landscapes and coastal charm – is made for outdoor adventures on land and water. Kalmarsundsleden trail is perfect for hikers and bikers and stretches across some 200 kilometres of country roads and coastline. In general, you'll find Kalmar's country roads and excellent cycle path network ideal for bike touring. In summer, you can even take your bike on the ferry over to Öland.
Since Kalmar extends into the Baltic Sea across a number of islands and peninsulas – including Stensö with its beaches – there's ample opportunity for canoeing excursions. Moreover, the city centre is surrounded by canals, allowing you to take in many cultural highlights – including Kalmar Castle itself – by the waterside. Kayaks and SUPs can be rented at the centrally located Kalmar kajak – a company that also offers guided paddling tours and courses. You're never far from a beach in Kalmar and can even go for a swim right in the city centre.
Krusenstiernska gården in Kalmar
The café in the historic garden of Krusenstiernska gården.
Photo: Johannes Norlander
Krusenstiernska gården in Kalmar
Photo: Johannes Norlander
Kalmar guest harbour
Photo: Alexander Hall
Kalmar Old Town
Photo: Alexander Hall
The taste of Kalmar – and the best dining spots
Kalmar's food heritage is strongly rooted in sustainable cuisine. Ingredients are typically sourced locally and across the county of Småland, which is studded with small-scale farms and food makers. Sample a variety of local delicacies by paying a visit to one of Kalmar's top restaurants, Postgatan. This fine dining spot focuses on innovative takes of classic dishes.
Enjoy Swedish homemade classics such as cinnamon buns and cookies in the historic garden setting of Krusenstiernska gården – centrally located in the Old Town. Kvarnholmen's Larmtorget square is brimming with outdoor cafés and restaurants such as the popular Krögers pub and Kalmar kött & bar. The square comes alive during the warmer months – the ideal spot to take in Kalmar's centuries-old charm with good food and a lively ambience.
Calmar Stadshotell
Calmar Stadshotell, located at the square Stortoget in the heart of Kalmar. The hotel has a rich history, going back 200 years.
Photo: Calmar Stadshotell
Calmar Stadshotell
Photo: Calmar Stadshotell
Kalmar International Sand Sculpture Festival
Photo: Albin Rylander
Kalmar konstmuseum
Photo: Magnus Bremefors
Kalmar Camping
Photo: Kalmar Camping
Camping by the sea in Småland
Photo: Alexander Hall
PRACTICAL INFORMATION BEFORE YOUR TRIP TO KALMAR