Skip to main content
Rapeseed fields in Skåne
Skåne offers relaxing natural landscapes with large expanses of bright yellow rapeseed fields.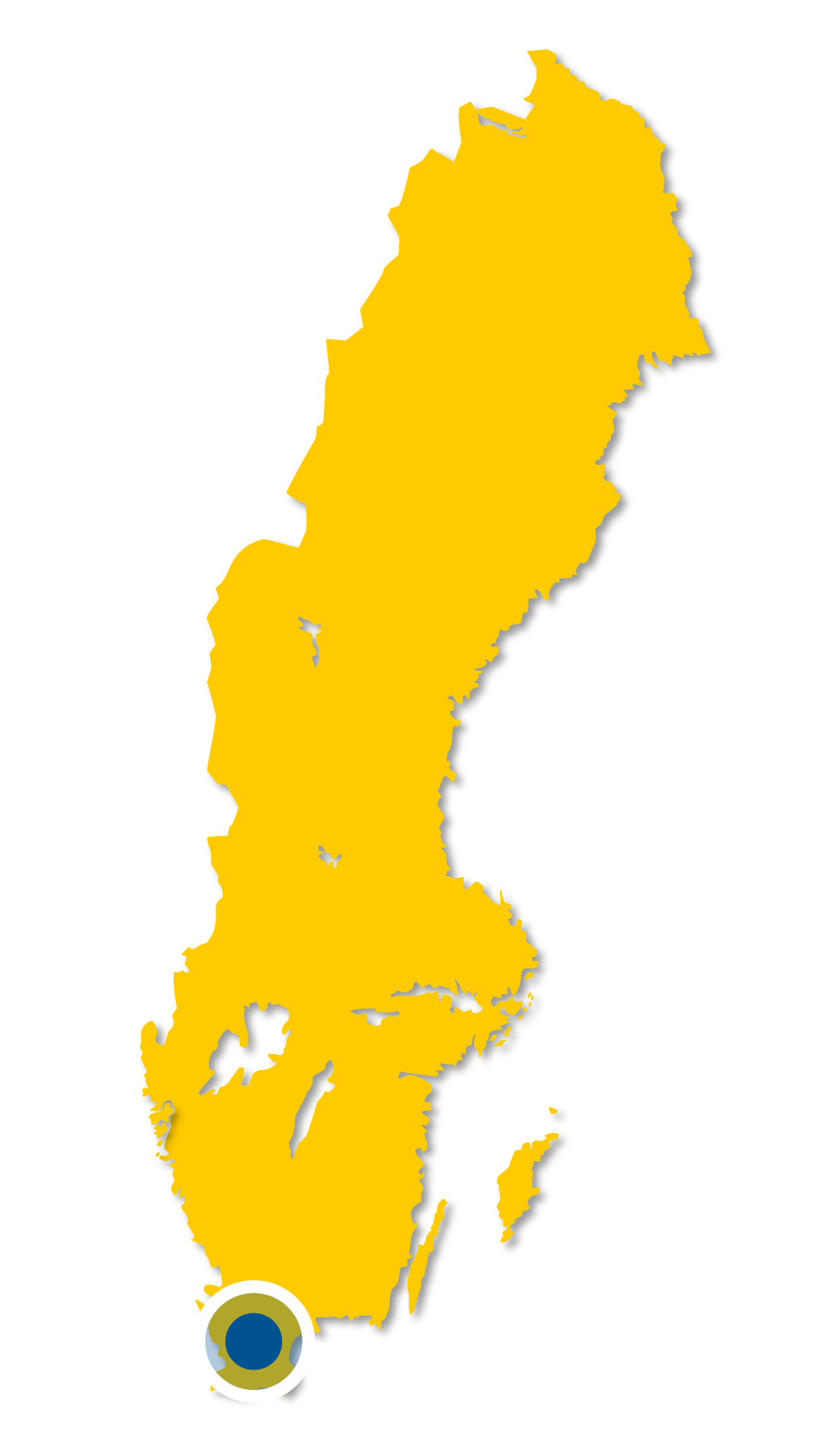 Photo credit: Anders Tukler
Skåne – a coastal county steeped in history
Skåne county in the south of Sweden has it all – magnificent nature, holiday-worthy beaches, fascinating history and a vibrant city pulse courtesy of Sweden's third largest city, Malmö.
Last updated
01 February 2022
Skåne is a unique destination offering a broad spectrum of experiences, from Malmö's unique architecture to relaxing natural landscapes with large expanses of bright yellow rapeseed fields, enchanted beech tree forests and white sandy beaches. This beautiful province provides easy access to Denmark and northern Europe via Öresund Bridge, ferry connection and Malmö Airport. It also offers up plenty of accommodation, dining experiences and outdoor activities in and around towns like Malmö, Lund, Helsingborg, Ystad, Trelleborg and Båstad.
Add to this a rich plethora of cultural highlights – including world-class museums, ancient monuments, historic cold bathhouses and centuries-old castles – and you have a well-rounded destination for a summer vacation or an idyllic road trip.
Bathing huts in Skanör
Skåne has plenty of holiday-worthy beaches. In Skanör, the white sand is studded with colourful bathing huts.
Photo: Bianca Kramer
Bathing huts in Skanör
Photo: Bianca Kramer
Skåneleden during autumn
Photo: Apelöga
Kiviks Musteri in Skåne
Photo: Kiviks Musteri
Sibbarp's beach in Malmö
Photo: Werner Nystrand/www.malmotown.com
Paddling on lake Immeln
Photo: Christian Andersson
Canoeing on Ivösjön, Skåne
Photo: Mickael Tannus
Nature experiences in magic surroundings
One of the county's definite gems is Österlen. This coastal region, nestled in Skåne's southeast, is known for its pristine white sand beaches and is a popular destination for Swedes during the summer months. To avoid the crowds, a visit during spring or autumn is recommended. Having had your fill of relaxing beach bliss, you'll find an extensive network of trails for hiking and biking. Skåne's terrain is suitable for most, families included, as it's generally flat or gently rolling. A variety of trails – including the major Swedish hiking classic Skåneleden – snake through Stenshuvud National Park, spanning coastline, forest and stunning viewpoints overlooking the Baltic Sea. Skåneleden also passes by the lakes of Immeln and Ivösjön, offering great canoeing as well as fishing opportunities.
The charming town of Kivik is home to Sweden's biggest apple orchard district. Kiviks Musteri, founded in 1888, is Sweden's first commercial fruit farm. Today, you'll find some 70 varieties of apple growing here. Guided tours and cider tasting sessions are available, and there's an onsite restaurant.
On the west coast, the towns of Torekov and Båstad are summertime draws for boating, water sports and tennis enthusiasts.
Malmö Western Harbour
The Western Harbour is a district in Malmö where you can experience Ribersborgs kallbadhus and the twisted skyscraper Turning Torso.
Photo: Karol Werner
Malmö Western Harbour
Photo: Karol Werner
Malmöhus Castle, Skåne
Photo: Johanna Rylander
Ribersborgs Kallbadhus
Photo: Tina Axelsson
Lund University Library
Photo: Lukasz Burda
The maze at Sofiero, Skåne
Photo: Carolina Romare
Ales stenar, Skåne
Photo: Sydpol.com
Skåne's historical and cultural must-sees
Skåne is studded with wonderful towns and cities, each with its own character and cultural highlights. The region's multicultural capital, Malmö, has a diverse line-up of landmarks, many of which serve as reminders of Skåne's past as a Danish county. Malmöhus Castle was built by King Christian III of Denmark in the 1530s on the ruins of a 15th century fort. This well-preserved Renaissance castle, now a museum, is the oldest of its kind in Scandinavia.
As for the noteworthy modern architecture, the 190 metres tall, neo-futurist Turning Torso is perhaps the most famous. At the time of its inauguration in 2005, it was the tallest residential building in Europe and it's known as the world's first twisting skyscraper.
A Malmö building of a different kind, Ribersborgs Kallbadhus, dates back to 1898. Join the locals at this much-loved cold bathhouse – nicknamed "Kallis" – for a dip and a sauna session, year-round.
The charming city of Lund – home to the world-renowned Lund University – has its own cluster of historic sites, such as the spectacular Lund Cathedral with its distinctive 14th century towers.
Helsingborg, meanwhile, boasts cultural highlights such as Sofiero – a 19th century palace world-famous for its stunning park and landscaped gardens.
Ales stenar (Ale's Stones) is another historic wonder. Located on the south coast, this ship-shaped megalithic monument was created using 59 five-tonne boulders. Studies suggest that the structure dates back to the end of the Nordic Iron Age some 1,400 years ago.
There are also idyllic fishing villages to discover, including Arild – considered one of the most beautiful villages in Europe – and the equally charming Mölle, near which you'll find one of Sweden's oldest castles, Krapperups slott, replete with landscaped gardens and a museum.
Spettekaka from Fricks Spettekaksbageri, Skåne
Spettekaka is a traditional cake from Skåne. It's made using a batter of potato flour, sugar and egg, which is slowly curled on a rotating wooden spit while baking.
Photo: Carolina Romare
Spettekaka from Fricks Spettekaksbageri, Skåne
Photo: Carolina Romare
Restaurant Mutantur in Malmö
Photo: Oscar Wettersten/Restarant Mutantur
Restaurant Lyran in Malmö
Photo: Carolina Romare
Absolut Home
Photo: Apelöga
Arilds vineyard
Photo: Apelöga
Eating and drinking – the Skåne way
Skåne has a distinctive culinary heritage, and its fertile soil yields a bountiful harvest of fresh produce, prepared in season by local chefs. Must-tries include 'gåsamiddag' (goose dinner). This elaborate classic – traditionally eaten on Saint Martin's Day on November 10th – starts with black soup, before moving on to hearty roast goose stuffed with apples and prunes, served with goose-liver sausage and potatoes. To follow: delicious apple cake. Throughout November, you'll be able to taste the custom at restaurants across the region.
'Spettekaka' – a crisp pyramid cake baked on a spit, decoratively drizzled with white or pink icing – is another classic.
Over in Malmö, you'll find an eclectic and international culinary offer. The city is studded with highly regarded restaurants including Mutantur – a fine-dining spot blending Nordic and Asian influences with a focus on seasonal ingredients – and Lyran, whose compelling menu is studded with seasonal produce such as veal sourced from nearby farms and freshly foraged mushrooms, herbs and vegetables. In various parts of Skåne, you'll also find excellent vegetarian and vegan eateries, like Jord & Bord Örnahusen.
Absolut Vodka, a Swedish icon hailing from Skåne, has its own residence in Åhus – Absolut Home – with guided tours, a bar and a restaurant specialising in a contemporary take on Swedish culinary traditions, with drinks to match. Elsewhere in Skåne, you'll find a large number of vineyards such as Hällåkra Vingård, which serves delicious food and drink made onsite.
From cityscapes to natural wonders, experience Skåne with all your senses, and you'll find yourself falling in love with this unique Swedish province.
Wanås Konst Scultpture Park
"Eleven Minute Line", by artist Maya Lin, at Wanås Konst Sculpture Park in Skåne.
Photo: Maya Lin, Eleven Minute Line, 2004. Photo Anders Norrsell
Wanås Konst Scultpture Park
Photo: Maya Lin, Eleven Minute Line, 2004. Photo Anders Norrsell
Wanås Restaurant Hotel
Photo: Fredrika Stjärne / Wanås
Ystad Saltsjöbad in Skåne
Photo: Carolina Romare
Bäckaskog Castle, Skåne
Photo: Carolina Romare
Glimmingehus in Skåne
Photo: Birger Lallo/Glimmingehus
Bike tour on Ven, Skåne
Photo: Mickael Tannus
PRACTICAL INFORMATION BEFORE YOUR TRIP TO SKÅNE